Aïkido Shudokan Belgium International Gasshuku 2019
Début Jeudi 31 Octobre 2019
Fin Dimanche 03 Novembre 2019

Contact
Cette adresse e-mail est protégée contre les robots spammeurs. Vous devez activer le JavaScript pour la visualiser.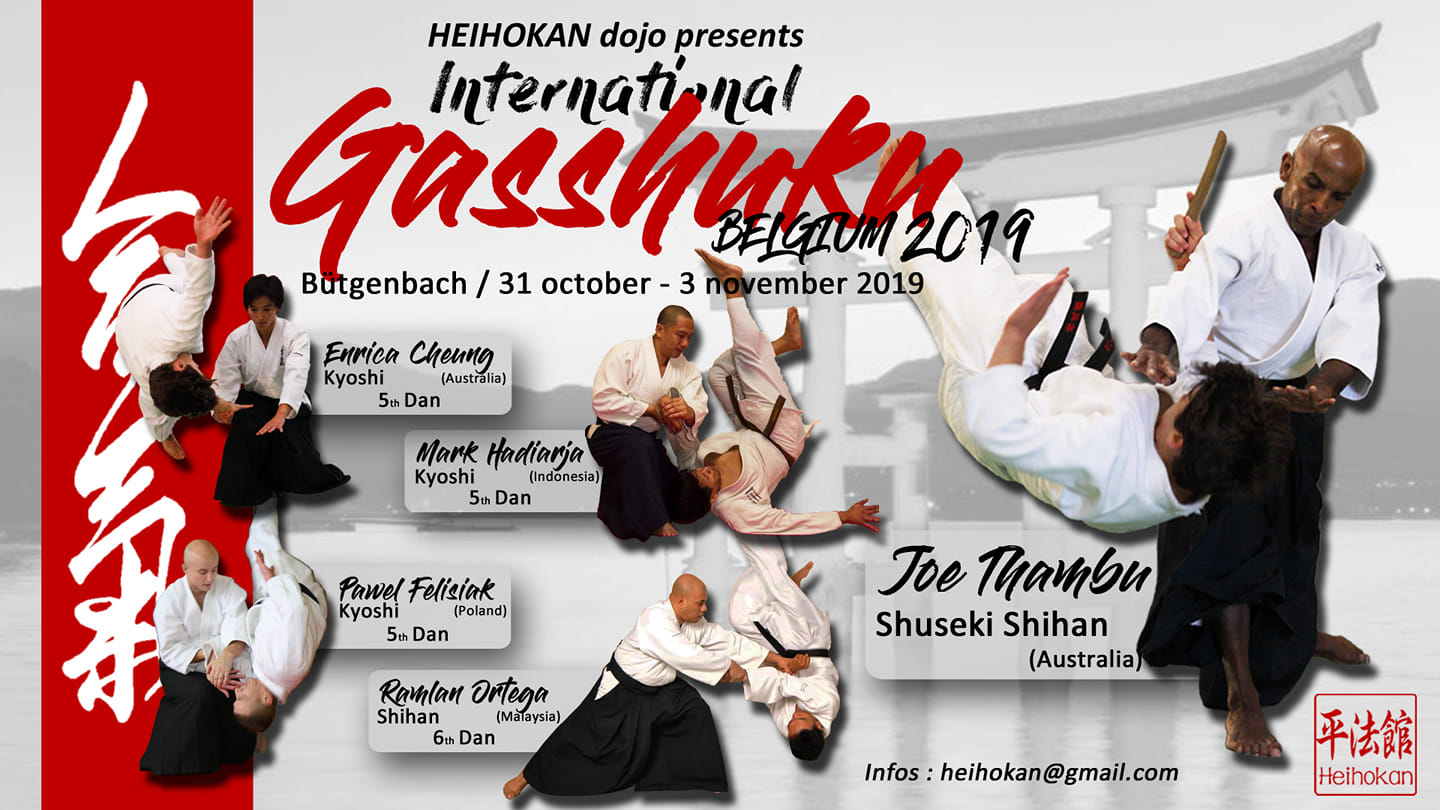 The Heihokan dojo is honored to invite you to its international Gasshuku (31/10/19 - 03/11/19), hosting together 5 famous Senseis for the first time in Belgium : Joe Thambu, Shuseki Shihan / Ramlan Ortega, Shihan / Enrica Cheung, Kyoshi / Mark Hadiarja, Kyoshi / Pawel Felisiak, Kyoshi.

Not only a 4 days training, it will also be the occasion to practice musubi, connecting people from all over the world.

Immerged in sports dedicated infrastructures, you will also enjoy the atmosphere and scenery.

We are looking forward to meeting you for this great event.

Osu !
---
Practical information :
From Thursday 31/10/19 to Sunday 3/11/19

Place of residence : Butgenbach

Sport- und Freizeitzentrum Worriken
Worriken 9
B-4750 Bütgenbach

The closest airports where some of Heihokan's members would pick you up are :
Brussels, Brussels south, Eindhoven, and Düsseldorf.

Feel free to contact us if you need more information to organise your journey.

Schedule :

More information soon.

An activity will be organised on Sunday morning.

Accommodation in Butgenbach :

During the 4 days, you will stay at the hotel, in double rooms.
All meals are included (breakfast, lunch, dinner). Extras will be at your charge.

Fee :

Full Gasshuku : 300€
2 days : 200€
Accompagnant, without training : 150€

By bank deposit, on the account : BE34 3630 6140 6090 / IBAN : BBRUBEBB

Registration : for the 31st of August (max.).

If you have specific request, feel free to let us know : Cette adresse e-mail est protégée contre les robots spammeurs. Vous devez activer le JavaScript pour la visualiser.

Osu !
Lieu
Sport- und Freizeitzentrum Worriken Worriken 9 B-4750 Bütgenbach